How Do We Support You?
Iconic cheesesteak franchise is committed to helping entrepreneurs thrive
Franchising with Charleys Philly Steaks means that you will never be alone in business. Since our founding in 1985, Charleys Philly Steaks has been passionate about entrepreneurship. And in the 35+ years since we first opened our doors, we've helped dozens and dozens of entrepreneurs realize their full potential as business owners. 
This is why we've made significant investments in training, support and technology to ensure that our franchise owners have all the resources they need to run thriving, growing businesses. Our track record speaks for itself. Charleys Philly Steaks has experiencing record breaking expansion, and an estimated 70% of that growth comes from existing franchisees reinvesting in the brand
"Charley's is more than just a brand. It is a family of dreamers and entrepreneurs filled with opportunities for anyone who wants to work relentlessly and pursue their dreams. The brand has given me a solid platform to succeed. When I was presented with the opportunity to become a Charleys Multi-Unit franchisee, I jumped at the chance; because this means that I could expand my passion of bringing joy through service!"
"We exist to help our franchisees become successful in business, and we want to help as many entrepreneurs as we can," says Charley Shin, CEO, and founder of Charleys Philly Steaks. "This brand has never been more successful than it is today, and we've never been more excited about the future."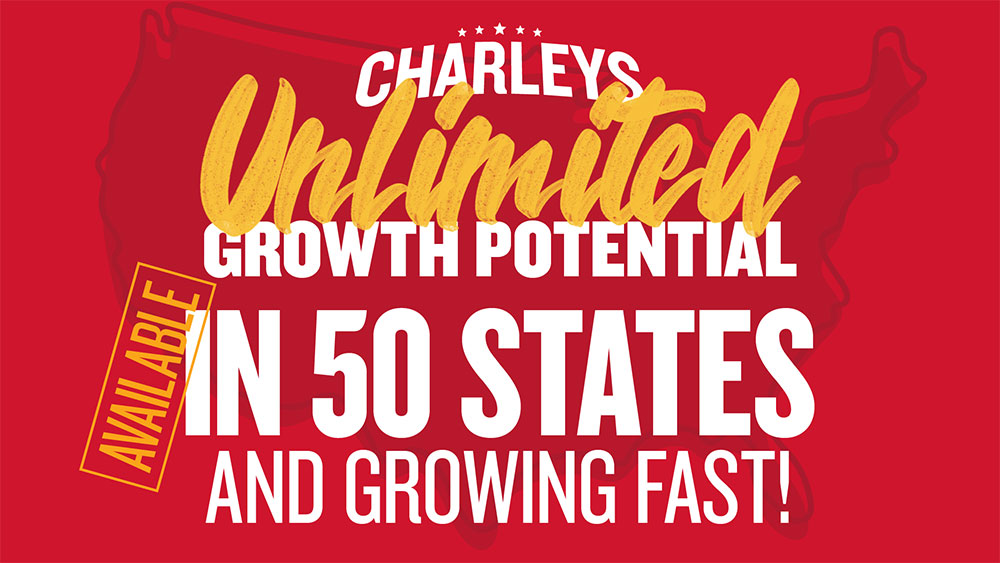 What does our training & support look like?
Real-estate support – Choosing the right location is absolutely critical to ensuring that your new Charleys Philly Steaks location has the potential to thrive over the long-term. This is why you don't do it alone. Our real-estate team will guide you through the process of site selection, and help oversee the buildout process to ensure you stay on track for your grand opening celebration.
In-person training: You will visit Charleys Philly Steaks franchise location for three weeks where you learn every aspect of the business model. You will learn how to prepare our cheesesteaks to perfection, how to manage inventory, how to use our POS system, how to interact with customers, lead a team, and much, much more.
Marketing support: One of the best parts about franchising with a brand like Charleys Philly Steaks is the fact that we offer cutting edge marketing support. We provide you with a comprehensive marketing plan, including materials, to effectively engage with your customers. One of the ways that we effectively market to your guests is through our loyalty program, which has experienced a tremendous increase in new users over the last several years.
Menu innovation: While Charleys Philly Steaks has an iconic menu that millions of people love, we're always looking for ways to innovate and generate excitement amongst our cult-like following. This is why we roll out several LTOs a year. We always remain on the cutting edge of trends and seek out exciting flavor profiles to appeal to our guests. 
Ongoing support: Charleys Philly Steaks offers comprehensive ongoing training & support. From field visits to your location, to ongoing marketing support and professional development, we provide all the support you need to develop into the entrepreneur you know you can be.
"We've been growing ever since our Grand Opening," says Kevyn Scott, Charleys Philly Steaks franchise owner. "Usually, numbers start to go down a little bit after a Grand Opening and the initial hype, but our numbers are continuously increasing. We're about 10% higher in sales than when we opened. With Charleys, the support is phenomenal. You feel like you're part of a family. That's one of the major things that drew me  – feeling part of a family and feeling valued."
"As a new entrepreneur with a corporate Cyber Security background, I decided to begin my franchisee journey with Charleys because of my love for the food, my belief in the brand, and my alignment with their core mission and values. I can truly say becoming a Charleys Franchisee was one the best decisions I've ever made in my life. They have one of the simplest operations in the industry and a strong corporate team to help Franchisees be successful. Their brand awareness is strong and it's continuing to grow as more locations open up. They genuinely care about their owners and the communities they serve.  I look forward to continuing my franchisee journey with Charleys and helping to grow the brand."
Ready to Invest in a Charleys cheesesteak franchise?
For in-depth details about the Charleys Philly Steaks franchise opportunity, download our Free Franchise Opportunity Report. You also can learn more by visiting our research pages.